*Last week pastor Xavier Thompson of Southern Missionary Baptist Church met with other members of the Los Angeles-area clergy to pray and protest the FAIR Education Act (Senate Bill 48), which was signed into law in July by California governor Jerry Brown.
The law ensures that California public schools will include the historical contributions of lesbians, gays, bisexual and transgender people in the social science curriculum.
Prior to the meeting (which I did not attend) Thompson offered the following:
"Let me be very clear, this is not an attack on the LGBT people or any particular group. I believe I am taking a stand for Biblical principles and righteous standards as outlined in the word of God. This is a big issue because you cannot sexualize history. The underlying impact of SB 48, I believe, is the advancement of a pro-homosexual, world-view in the public classroom."
I don't even know where to begin.
The "Black Church" as we've historically called it, (AME, Pentecostal, Baptist, COGIC, etc.) has long involved itself within the political debate and issues of societal importance…arguably almost to a fault. Historically it was the place where African-Americans got news updates, health statuses of fellow members and recognized young people as they matriculated to college.
Today…not so much.
The call for a city-wide "prayer meeting" in protest of the FAIR Education Act exemplifies the desperation of the Black Church to remain relevant and typifies the extreme, hypocritical lengths in which it will go to generate media coverage.
This is not about whether the FAIR Education Act should or should not have been signed into law. This is about the gross negligence of the Black church locally and more broadly.
If "Biblical principles and righteous standards as outlined in the word of God" were the litmus test for city-wide prayer meetings and calls-to-action, then why was there no such gathering with respect to Proposition 19, the measure to legalize marijuana in California? Of all the issues which disproportionately and directly affect African-American young people (and would be in direct contradiction to what's outlined in the word of God,) the Black Church community should have been all over it.
With the exception of Oakland's Bishop Ron Allen…there was absolute silence.
Rev. John Hunter of the venerable First AME in Los Angeles and NINETEEN other local ministers, including Xavier Thompson recently "protested" the treatment of Dodgers owner and multimillionaire Frank McCourt by Major League Baseball.
Actual letter HERE.
Really guys…that's the best idea that anyone could come up with in terms of ministerial outreach and Christian service? That's a meaningful use of resources, influence and social capital in accordance to the word of God?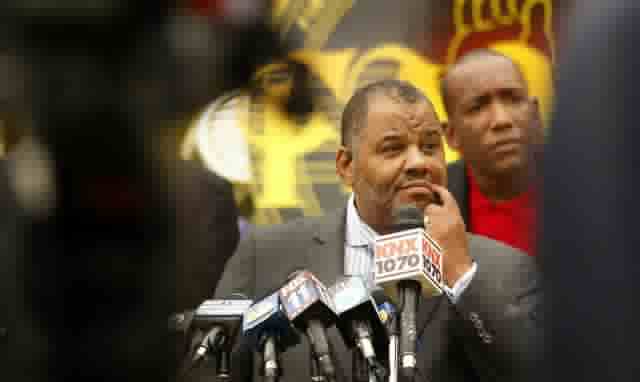 And speaking of John Hunter (pictured above at McCourt press conference), he's STILL in court regarding a potential 7-figure sexual misconduct lawsuit due to the alleged abuse and coercion of a minister on his own staff. Where was the city-wide prayer meeting to protest the mistreatment of women in the church or the rampant sexual misconduct of ministers both near and far? Again, if "Biblical principles and righteous standards as outlined in the word of God" were the litmus test for city-wide prayer meetings and calls-to-action, then the FAIR Education Act needs to get to the back of the line.
There's plenty wrong with L.A. public schools and of far greater importance than this minor portion of the social science curriculum.
Of the ten worst elementary schools in all of California, Los Angeles County boasts 4 of them. Yes, four of the worst elementary schools in all California are right here in these ministers' own backyard. But Xavier Thompson wants you and me to gather in prayer and strategize to help repeal a law which effectively translates to some 10 minutes of social science per week…if that. Ignore the other 6 educational hours of the school day, just deal with these ten or so minutes.
Do the math…pun intended.
Again, this isn't about whether one should agree with the FAIR Education Act; don't miss the point. This is about understanding the reality that the issue is comparatively of minimal and marginal importance. Our priorities are hideously out of kilter, wasting resources and social capital for the purpose of generating ephemeral media coverage.
Where was the city-wide prayer and protest meeting to decrease the violence or increase the number of teachers hired in Los Angeles schools to help improve the educational environment?
John Hunter has a wanton and brazen history of "allegedly" sexually abusing a member of his own staff, yet none of the influential Los Angeles clergy publicly will say a mumbling word about it.
The reason why so many churches in Los Angeles and beyond are empty and struggling to survive, is tied to biblical hypocrisy and the worldly aspirations of its leadership. Standing on the word of God only when it is politically expedient or makes for good copy in a press release is transparent and self-serving at best and sacrilege at worst. Instead of publicly condemning the Hunters and Eddie Longs of the Black clergy, they've opted to push the hot-button of gay rights to rile up church members…again, under the guise of acting in accordance to the word of God…again.
Here's a question…will Eddie Long be now taught in social science thanks to the FAIR Education Act? It only makes sense to highlight the contributions of all gay people, right?
Just posing a question…
What also makes sense is that we save our protests for use against the Black Church itself, until it stops using the word of God to serve political and personal goals of self-aggrandizement.
Morris W. O'Kelly (Mo'Kelly) is a political correspondent for the BBC Radio and Television networks and author of the syndicated column The Mo'Kelly Report. For more Mo'Kelly, go to his site. Mo'Kelly can be reached at [email protected] and welcomes all commentary.